Rescuers will take no risks in freeing the 12 boys and their football coach trapped in a flooded cave in Thailand, an official said.
They have received their first food and medical treatment in 10 days.
Seven divers, including a doctor and a nurse, joined the group inside the caves in the north of the country after they were discovered alive on Monday.
Rescuers are now considering how best to bring the group to safety.
"We will not rush to take the lads out of the cave," the governor of Chiang Rai, Narongsak Osoththanakorn, told reporters, adding: "Whoever has zero risk first can leave the cave first."
More heavy rain could see water levels rise and threaten the air pocket where the group has taken refuge.
The boys were found nine days after they entered the caves in Chiang Rai province following a football training session and became trapped by rising waters from heavy rainfall.
On Tuesday, Thai officials told reporters that rescuers were providing health checks and treatment, and keeping the boys entertained, adding that none of those trapped were in a serious condition.
"They have been fed with easy-to-digest, high-energy food with vitamins and minerals, under the supervision of a doctor," Rear Admiral Apagorn Youkonggaew, head of the Thai navy's special forces, told reporters.
Why can't they swim out?
It is believed that most of the group cannot swim, complicating what would already be a difficult rescue.
Earlier, the Thai military said the boys would need to learn to dive - or wait up to four months for flooding to recede before they could get out of the caves, meaning food would need to be supplied for that time.
Interior Minister Anupong Paojinda later stressed the urgency of the evacuation, adding that rain was forecast "in the next few days", the Bangkok Post reported.
Attempts are being made to reduce the risk of further flooding of the caves by pumping water from the underground system, Mr Anupong said.
A phone line is also being installed so the boys can talk to their families.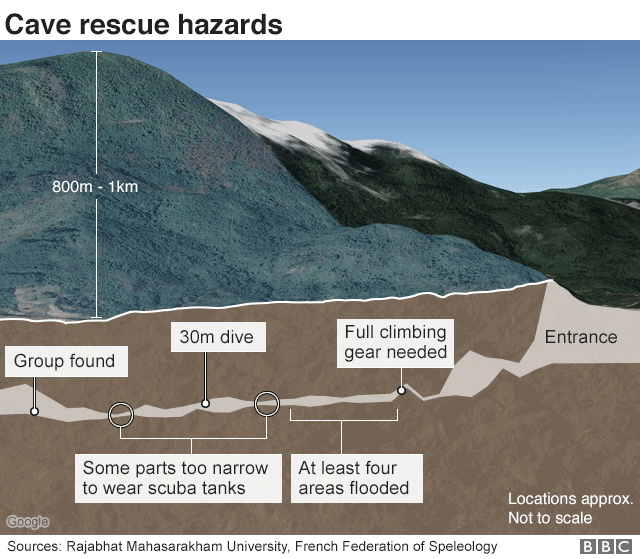 The governor said that requests had been made to build "infrastructure" in the cave leading to the pocket where the teenagers and their coach are located.
The Thai authorities have appealed for donations of full-face scuba diving masks small enough to fit the boys in order to reduce the risk of their breathing apparatus coming loose as they travel through flooded passageways.