Suspected New York City bus terminal bomber Akayed Ullah has been charged with terror offences, police say.
The 27-year-old Bangladeshi immigrant was wounded in the attack at the Post Authority Bus Terminal in Manhattan on Monday morning.
Mr Ullah is reported to be in a serious condition in hospital after suffering burns when a crude device that was strapped to his body exploded.
Three other people suffered minor wounds in the blast during rush hour.
The New York Police Department tweeted on Tuesday that Mr Ullah was charged with criminal possession of a weapon, supporting an act of terrorism and making a "terroristic threat".
He told police investigators he had been inspired by Christmas terror attacks in Europe and selected the Port Authority bus terminal after seeing a number of festive posters on the subway walls, US media report.
Mr Ullah said the planned attack had been motivated by US air strikes on IS targets in Syria and elsewhere, the New York Times reports.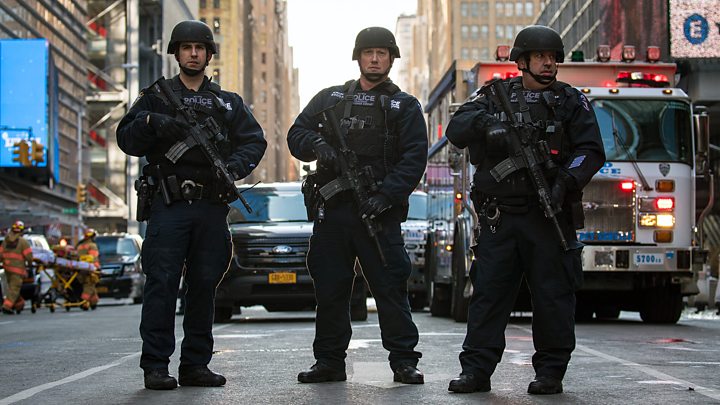 The Bangladeshi government says he had no criminal record in the country, which he last visited in September. The visit lasted about six weeks, his uncle told the Associated Press news agency.
Mr Ullah's wife, who did not join him in the US, and other family members are now being questioned to try to understand how he was radicalised.