A bus left a road in Moscow before ploughing into a subway entrance, leaving at least four people dead and 15 injured, Russian officials say.
Footage shows people scattering as the bus ran down wide steps before being brought to a halt by the tunnel's roof.
The incident occurred near Slaviansky Boulevard station in western Moscow.
There is no suggestion it was a terror attack. Russian investigators said the driver told police the vehicle had started to move suddenly.
He tried to apply the brakes but they did not work, the investigative committee said. The crash happened in icy conditions.
The number of people killed was unclear. Health officials said four people had died while interior ministry spokesman Col Yuri Titov said the accident had claimed five lives,
Interfax news agency reported that the bus was not even a year old. Moscow mayor Sergei Sobyanin told reporters at the scene that an inspection of the entire Moscow bus fleet has been ordered.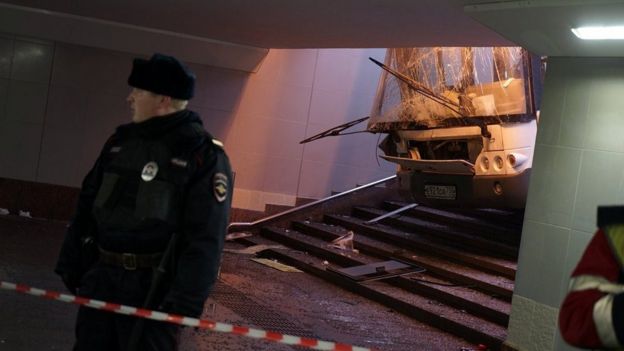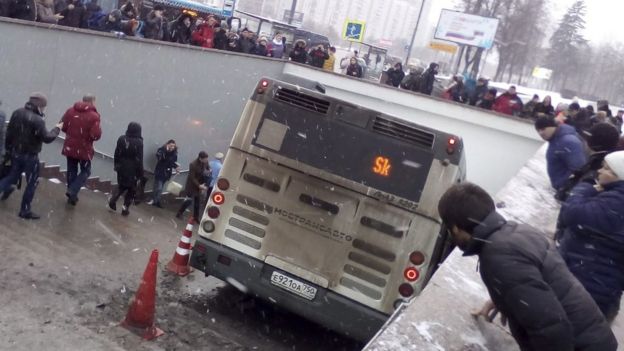 It is not clear if any of the people who died were inside the bus when it crashed.
Security camera footage broadcast on Russian television showed a number of people being struck by the bus as it went down the steps.
A preliminary examination showed the driver of the bus was sober, news agencies said. He has been held by police.
In July 2014, 21 people were killed when a train derailed near the same station after braking abruptly.
Monday is a normal working day in Moscow, where the Orthodox Christmas will be celebrated on 7 January.