Wikileaks founder Julian Assange has said he will not forgive and forget attempts to arrest him over rape allegations which led him to seek asylum in Ecuador's London embassy.
Hailing an "important victory", he said he was prepared for dialogue with the US and UK authorities.
Mr Assange, 45, is wanted in the US over the leaking of military and diplomatic documents.
Sweden said on Friday it had decided to drop its rape investigation.
Meanwhile Ecuador urged the UK to allow him safe passage out of the country.
The Wikileaks founder has chosen to remain in the embassy as he fears extradition to Sweden would lead to extradition to the US.
"Today is an important victory for me and the UN human rights system, but by no means erases seven years of detention without charge... while my children grew up. That is not something I can forgive or forget," he told journalists from a balcony at the embassy.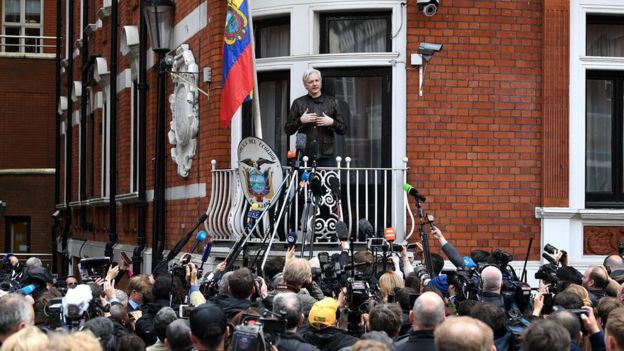 Wikileaks founder Julian Assange addressing the press
"My legal staff have contacted the UK authorities and we hope to engage in a dialogue about what will be the best way forward," he added, saying he was also "happy to engage" with the US.
Police in London have said they would still be obliged to arrest Mr Assange if he left the Ecuadorean embassy, despite the Swedish prosecutors' decision.
The Metropolitan Police Service (MPS) said Mr Assange still faced the lesser charge of failing to surrender to a court, an offence punishable by up to a year in prison or a fine.
But the UK has not commented on whether it has received an extradition request from the US, where Mr Assange could, potentially, face trial.
The plaintiff in the rape case was "shocked" by the decision, her lawyer said, and maintained her accusations against Mr Assange, Agence France-Presse reported.