British overseas territories in the Caribbean are braced for Hurricane Maria, a "potentially catastrophic" category five storm.
Warnings were issued to Montserrat and the British Virgin Islands (BVI) as Maria brought winds of up to 160mph.
Wreckage left by Hurricane Irma, which could be picked up by high winds, poses a threat to islanders.
The governor of the BVI, which was hit by Hurricane Irma 12 days ago, said they were "planning for the worst".
Gus Jaspert said the succession of the powerful storms was an "unprecedented event".
"Since Irma, we've been focused on recovery, ensuring security. We've switched track - to preparation. We've been securing shelters - many people are in homes that don't have a roof," the governor told Radio 4's Today programme.
BBC correspondent Jeremy Cooke, who is in the BVI, said people were "bracing for misery upon misery" with storm drains already blocked and buildings badly damaged.
The piles of wreckage left by Irma present another challenge, with every piece a potentially deadly missile once the winds increase, he added.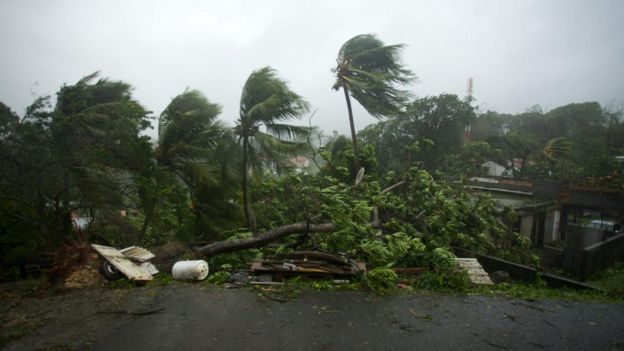 Pictures of Hurricane Maria's landfall on the French overseas island of Guadeloupe have emerged
Charlotte Grayson heard from her family who live on Tortola - part of the BVI - on Monday.
"They said I probably won't hear from them for the next 48 hours. They never got phone signal back in their home (since Irma)," said Charlotte, who lives in London.
"They were glad to already have the troops on the ground there. Everyone's trying to board up houses with plywood and tarpaulin, but they're worried about flooding."
Heidi Schumann, 44, who lives on Virgin Gorda in the BVI, said people were trying to get roofs on houses ahead of the storm.
"You are either patching it up properly with wood or you will have to wait until it passes," the mother-of-two said.
Ms Schumann, who used to work as a photojournalist, said: "It is so familiar for me, actually. I'm used to covering disasters but then leaving them and going home. Not having them at home."
Alison Strand, whose home in Anguilla in the Leeward Islands lost its roof during Irma, said: "We are sandbagging and preparing for flooding and the hurricane shutters are going up."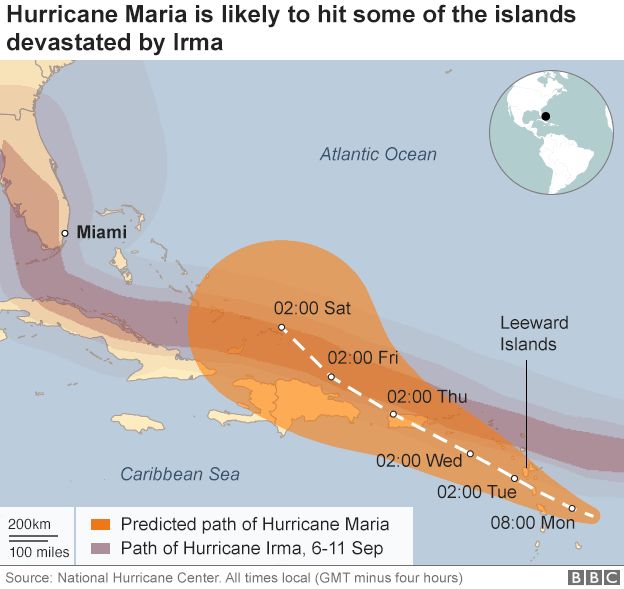 The Leeward Islands - where Maria will first strike - includes Antigua and Barbuda
Maria made landfall on Dominica on Monday. The island's prime minister, Roosevelt Skerrit, said its inhabitants had "lost all that money can buy".
The storm is expected to reach the BVI on Tuesday night and into Wednesday.
The US National Hurricane Center said the islands were at risk of being hit by a dangerous storm surge with destructive waves raising the water level by up to 9ft (2.7m).
Heavy rainfall of up to 20in (51cm) could bring "life-threatening flash floods and mudslides" on the islands, it added.
British overseas territories, including Anguilla, Turks and Caicos and the British Virgin Islands, are self-governing but rely on the UK government for protection against natural disasters.
More than 1,300 UK troops - already in the region for relief efforts following Irma - are staying put on the islands already affected, or in locations from where they will be able to deploy quickly.
An additional 42 strong military resilience team has been sent to the BVI prior to Maria.
HMS Ocean, which is carrying 60 tonnes of aid, is due to arrive in the region at the end of the week.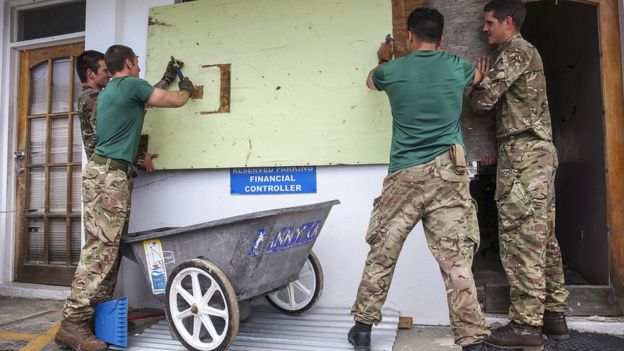 Hundreds of UK troops, deployed to the region after Hurricane Irma, will ride out Maria alongside local communities
Brig John Ridge, second-in-command of the UK military's Joint Task Force, which has been distributing aid, said the BVI had "already been weakened" and that the situation "doesn't look good".
"It kind of does not matter which way the hurricane goes, it is bad," he said. "They are either going to get the wind, which will pick up all the debris that is lying around."