Nouakchott, MAURITANIA - Yakoub is 13.
"I cannot think of anything else apart from playing football. And I'm not even supposed to be here!"
By 'here', Yakoub (pictured in main photo) means the premises of the Football Federation of Mauritania (FFRIM). The place is a complex of structures. Considering that just up the road, the buildings are mostly old, Arabic-inspired architecture, the modernity of this football sanctuary is jarring to its surroundings.
Inside the complex is a 500 seater mini-stadium (to be expanded to a 5,000 seater by next year), three adjoining training pitches, a mosque, and a youth academy. Plus, a digital unit building which houses the federation's own TV station.
It is the youth academy which has brought Yakoub on his bike from home, two kilometres away. His grandmother sent him to get ingredients for the evening meal of fish and rice, locally called chebujin.
"I come and watch the U-15 team train before going. My big brother is here. One day I will be here too."
Dreams like these have become possible for young Mauritanians because there is a tangible structure for the growth of the game in the country nestled in north-western Africa.
--
Inside the FFRIM building, on the second floor, hangs a photo. It's of the U15 youth team playing their compatriots from Barcelona. Then there's another, this time of the U17s playing Argentina.
"These images are important for us because they show how far we've come," says Hachim El Yamani, an ex-footballer who has been covering the local game as a pressman for more than twenty years.
He tells Joy News that eight years ago, this country's football was as barren as the desert, which covers approximately three-fourths of the country.
The top flight, or Ligue 1, which had just nine teams, was erratic. They had just two divisions. They had – and still have – never qualified for a major continental competition. They had no Fifa standard stadium. They did not have a single player in the whole country – which is four times the size of Ghana – on a standard salary or insurance. The football association operated out of a rented structure.
Today, the story is scarcely believable.
The national team, Les Mourabitones, eliminated Senegal from the 2013 African Nations Championship, after failing to beat their more illustrious neighbor in more than 15 attempts. Two years later, they hosted and beat South Africa in an AFCON qualifier. They've also beaten Liberia and Canada recently.
Then the world took notice. But it's taken a lot of work.
--
Mauritania's Football Federation (FFRIM) held its first democratic election in 2011, and Ahmed Ould Yahya won. That's where the story begins.
He has his critics, but even they are silent in the face of the facts. Yahya instituted an ambitious Agenda 2024 move and bulldozed everyone along. 'Bullboze' is the word because he has had to whip his opponents in line.
In that time, a new 20,000 seater Olympic Stadium – where they beat South Africa three years later – has been built. An $820,000 youth center, covering 128 sq. miles, has been running since 2012. It currently has a national team for U15s, U17s, U20s and U23s.
Not just that, they also have leagues for U15, U17 and U20 teams nationwide that runs parallel to the Mauritanian Ligue 1. These youth leagues have been partnered by local telecom giants Mauritel, while a humanitarian support deal has been signed with UNICEF.
Here are the current standings of all three leagues.
The most recent big win came from the U17s, who beat Algeria's U17 national side 1-0 in December.
Meanwhile, the top flight has been expanded to 14 teams, and a salary is mandatory. No player goes home at the end of the month without pay, a function of a strict $78,000 budget limit enforced for Division 1 and 2 sides back in 2010.
Not long after these steps were taken, Tevragh Zeina became the first Mauritanian club to advance to the second round of the African Confederations Cup since 1994. But the national team needed a shot of experience, so the Federation began approaching eligible players.
--
Back on the training field, Massahoud is racing up and down the wings, with his coach supervising. Massahoud (pictured below in blue and white, jumping) is Yakoub's elder brother. He's 16 and a member of the U17s.
"My family moved here from Chinguetti, mainly because Yakoub and me have dreams of playing football. My dad was sure that if we came to the capital I can have more chance to access the national youth academy."
"I work very, very hard every day to realise my dream. I want to be African Player of the Year. I really do. And to be honest the facilities we have here make me happy. Because when we watch the TV and they show what people have in Europe, it looks just like what we have here!"
--
The quiet rise of the football here is a reason Fifa president Gianni Infantino has taken such a liking to the place. He's been here on official visits, twice, in the last few years already and is likely to return next month for a workshop.
"Mauritania is a local, regional, African but also global example. That's why I wanted the Presidents of the Federations to come and see what's going on here," Infantino says. He's repeated the message in Nigeria, where he chaired one of three Fifa Summits on the continent (after an initial one here in Nouakchott at the weekend), and has done same in Tanzania on Thursday.
Notwithstanding the ranking of the national team in the FIFA rankings (104; they finished 2017 in 99th), they have a technical center, a new Nouakchott torch stadium, but also nine other stadiums in different regions without obscuring other development projects."
The football federation boss, Ahmed Yahya (pictured below in spectacles, left), is a rising star in African soccer circles. And his work was rewarded in January when he was given the Football Leader of the Year award at the Confederation of African Football gala.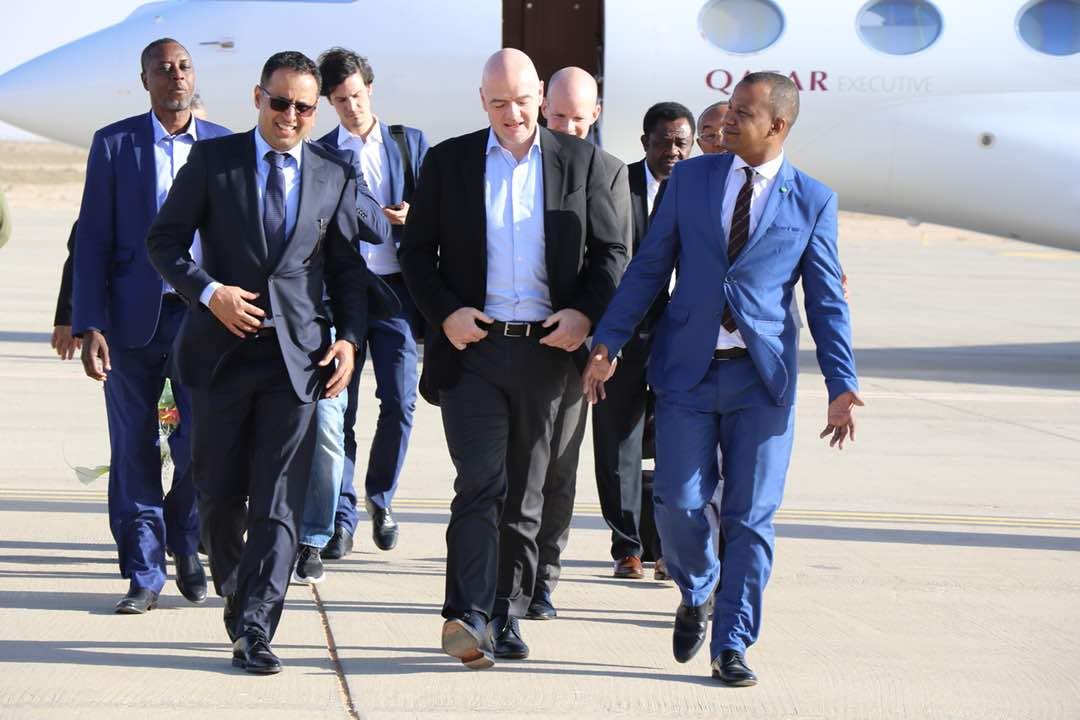 "It's not about me, really," he said in his acceptance speech. "My country is not as awash with talent as a lot of the African nations, because we have a small population. We don't have the natural conditions to produce so many players. So we have to do it the hard way. We have to think. We have to be innovative, because we want to be among the best African nations in ten years."
All this must be seen in context of the nation of which we speak. It's Mauritania, by all accounts nowhere close to Ghana in terms of football tradition or pedigree. But this is what they are doing, what they are, and where they are going.
Et tu, Ghana?
**
Get Gary on Twitter @garyalsmith