As the year rolls to an end, I try to calm down enough, almost to a crawl and to take stock of my year. Its been quite the roller coaster one. Highlights of the year of course included having my kids with me for the summer, a successful Black star international film festival that saw the attendance of both the first Lady of Ghana and the wife of the vice president of Ghana, I had been given a hot chase by the police, met a new man that I thought was wonderful, taken a real holiday in over 15 years, did some work on an upcoming show that I am proud of and finally decided to do the Yaa Asantewa library project to take container libraries into Ghanaian communities.
Now, this is an interesting one! And Interestingly, you would think that everyone, or certainly every Ghanaian that heard about this project of encouraging kids to pick up books for leisure would jump for joy! But no! From being kicked off platforms for talking too much about the project or for talking at all! To those thinking I had somehow reached into their heads and stolen the idea that they had carried for so long, to suggestions that I should change the name of the project so it doesn't reflect my own name (this was actually a suggestion made in good spirit I must say, but which reflected a reaction to so much negativity coming at me) to many more outlandish things have occurred.
Thankfully, when an idea drops into my head like this (and this one did on my one week vacation) I know it is something that the Universe wants me to do and will usually bring together what is needed to make things happen… and for those who are fixated on the name, beyond insisting that the last person on my mind when I chose the name was me, there is not much I can do… right?
Yaa Asantewa was a 60-year-old grandmother, who stood up to gather her people, from the Asante Empire, to fight off the British during their invasion of now Ghana. In fact, there should be roads and many more things named after her in Ghana, but what do we see? We see J.W. Bush Highways and Sankara fly overs (not that I have anything against the two!), but do we see roads named after our own icons? Do we celebrate our own icons?…But I digress.
Today I entered this really beautiful African shop in Accra. One would think that there should be more shops like that scattered around; after all, I am in Africa this very minute. But no! I find more high-end American stuff in my backyard than I would actually do in America. Certainly of the quality that I would consider decorating my home with. Lately, I have taken to making my own design items from either recycled material or everyday items I turn into design items. My friends tell me that I have a very unusual, but beautiful home and so I must be doing something right.
I had always wanted a lantern in my home. The kind that I grew up in the village as an African child and so seeing this beautifully done 'African' lantern, I think aha! And paid for it before looking at where it was manufactured. Then I made a discovery that was disturbing…This lantern definitely wasn't made in Africa. So why did I always think that this lantern was ingenious to Ghana? Now, either the design had been stolen from us, or we have been stealing for a long time and making it out to look like ours. Either way, someone definitely lacked ingenuity and originality…. But then, isn't this the story of Africa?
Africa has many problems it can not seem to be able to solve and in my mind, there are two main reasons for this. Firstly, we grow up with an education that is alienating. I recently watched this TedTalk that questioned the fact the African child and for that matter, Ghanaian children may potentially learn as the first application for instance, of the letter 'A', the word 'Apple'…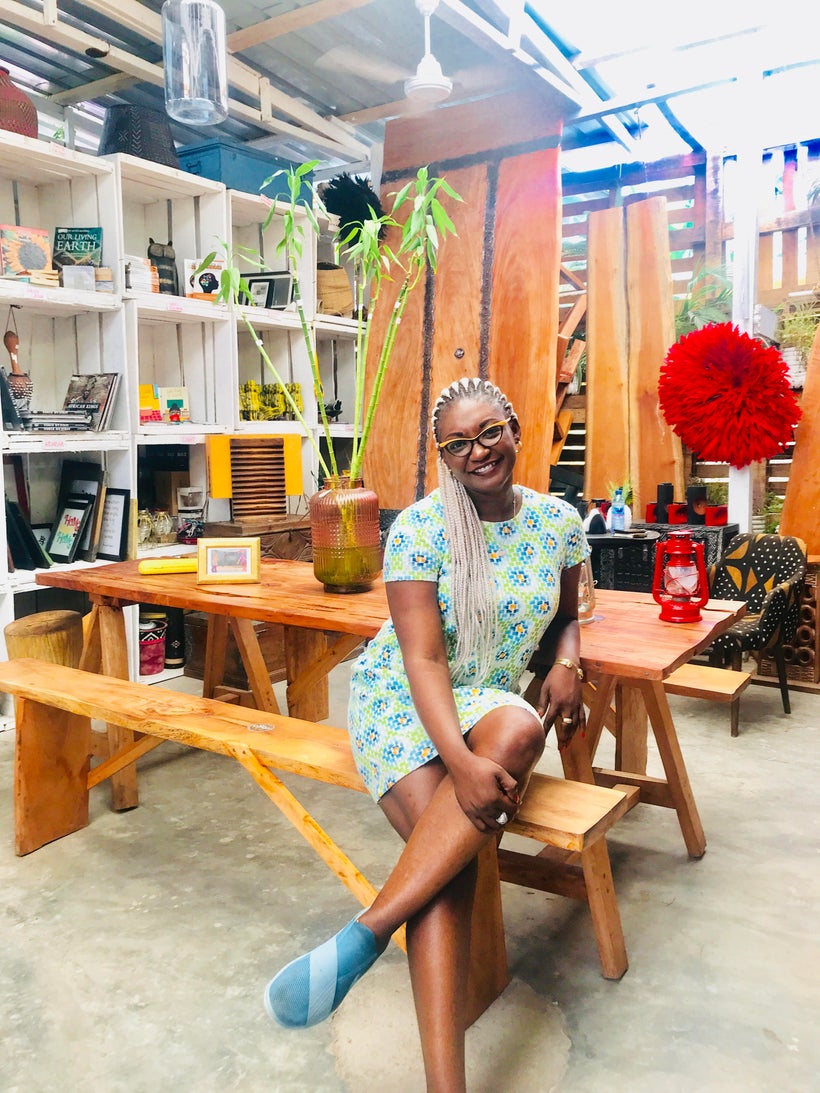 Author, Juliet Asante
It beats my humble mind, for I am by no means a PHD holder, that for over 60 years since the British left us, our esteemed learned PhD holders in education (we do have our fair number of those to be proud of), cannot seem to find an example of a fruit that grows in Ghana or the rest of Africa for that matter, that starts with the letter A to substitute what the British, our dear colonial masters, left us with. We can not find a fruit that starts with the letter A in Ghana to teach our kids. A word that is local and applicable and relevant to them…
The kid, therefore, grows up firstly to think that Apple must be a superior fruit to all the other fruits that surrounds him/her… and this superior fruit grows outside of the continent and for now, can only be found in the supermarket, or better still, that kid looks forward to the day when they can leave Africa and be in a country that has different colors of Apples. Isn't that so nice when finally that child achieves their long-held dream… and then we wonder why our kids would do anything to cross the seas, when in fact we should rather be wondering why there is anyone else left in Ghana!
This is a child that will spend their entire life, looking for external solutions for local problems because fundamentally, this child has been taught that all good things, and certainly all things worth learning about, is from outside of the continent. How is it that a nation like ours cannot sit down and rethink the content of our education to suit us as a people? Our culture, our reality, and our vision as an independent, dignified and contributing continent? But how can we, we have all been taught that 'A' Is for Apple… no?
Growing up, I remember a famous saying 'that if you want to keep knowledge from a black man, hide it in a book! And how do I know that teaching our kids to read for leisure will not produce the same old PhD holders that we are already saturated with?
I can not know any of these things, but what I do know, is that I was once a little girl who picked up a book and never put it down and as they say, it made all the difference. For sure, we are determined that we will build libraries in Ghanaian communities. First, we will stock them with beautiful books from around the world, because we understand that we are members of a global community and it pays to help our kids understand the world and travel the world through books…but then we will find those beautiful nuggets of African books too, written by so few Africans, but written nonetheless; and infuse them into the libraries…and then maybe we can begin to discover, one day when I am gone maybe, that the Ghanaian child may begin to see that I can certainly travel the world in search of Apples, but better still, there are even more beautiful trees and fruits here made just right for our weather and maybe I can look forward to living right here in Ghana and maybe I can invent a lantern that will be just right for Ghana… you will notice that there is a lot of ands and buts… but we must find the linkages somehow, must not we? I digress again from my original thought for this article…
This article was culled from Huffington Post. To learn more on how you can be a part of this project, follow the Yaa Asantewa Library on FB or visit www.yaaasantewalibraryproject.org