"The public was set against her in terrible ways, and she invited much of it of course," Mr Bedell says.
But he had tremendous sympathy for his friend, and stood by her side.
"When the public opinion decides it wants to hate a woman, it's always much, much worse than when they decide to hate a man," he says.
In his eyes, she was as flawed as any human, making the wrong decisions but paying too steep a price for them.
Someone who had endured too much pain and too many indignities.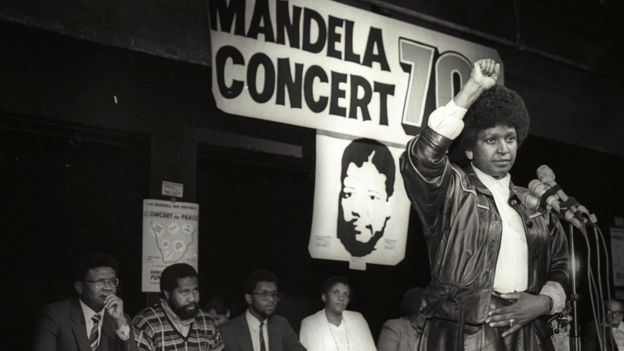 He adored Mrs Madikizela-Mandela - for her strength and intelligence and the affection she showed to those around her in private.
In later years, he watched her being a doting grandmother, and handling her financial struggles with "great dignity".
He says Mrs Madikizela-Mandela often spoke with nostalgia about her abandoned dream of becoming a social worker.
"She deeply regretted that the circumstances of her marriage and politics took her away from what she always loved more and what she wanted to be," he says.
"She never got to just be Winnie, the social worker."
Now, he says she is suddenly gone and South Africa "has to reconcile what it will be without her".
He thinks history will be kinder to her memory than it was during her lifetime.
"Despite all that hatred that the world threw at her, despite everything the South African police and the government did to try to destroy her, despite all of her bad decisions, the divorce from Nelson, her bad business deals, Winnie's the one who lasted. Winnie is the one who made it to the end," he says.