Love! Love!! Love!!!
The extraordinary word that stirs up exhilaration and delight, widens the pupil of the eye to its maximum dimensions of the aperture, stimulates the deepest desirable inner feelings of any sane Homo sapiens, propels joy and gladness in any attentive hearers with passion for real love, and motivates any man or woman to draw irresistibly towards any source that produces and echoes the love proclamation.
Humans were created and designed intricately and exclusively by God as creatures of love, worship, fellowship, service, and management of God's resources. A perfect combination of all these virtues is summarized in the word "fruitfulness" ---- producing results in accordance with your existence and destiny.
Humans were made to be organisms that need love and fellowship to survive and succeed --- fellowship with God and fellowship with other human beings that are rooted in love. Such fellowship is expressed in all the variety of interactions and activities (giving and receiving) that humans engage in day by day.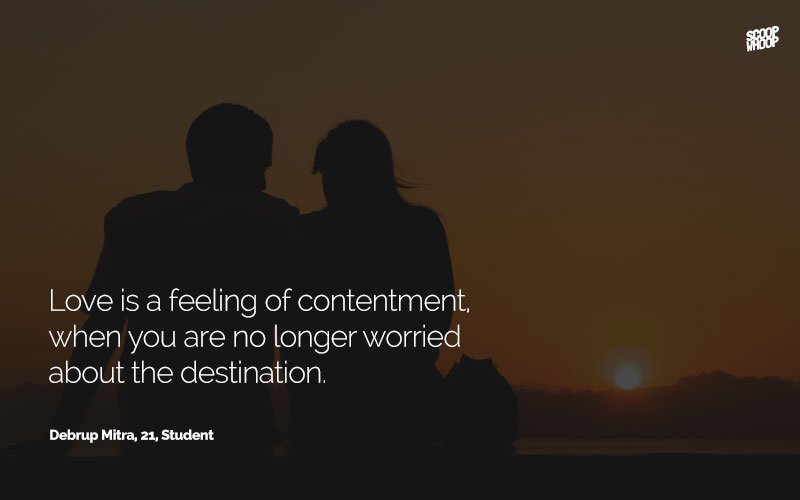 If we are ever going to fully be what we are expected to be, and do everything we are expected to do and complete in order to obtain good results, then we need to have and maintain a sharp focus on divine plus human love and fellowship. Our vision of love and fellowship will always become blurry and amorphous (shapeless) and will continue to negatively impact our treatment of God and people in a world that is inward-looking, un-loving, and selfish.
There is an urgent and crucial need for us to clearly define love, seek to connect properly with God who is the source of love, and use the understanding plus God's inspired love within us to relate and interact with one another.
Our marriages, homes, family lives, institutions, businesses, churches, and communities cannot be productive, and will not survive the storms of our time if we do not sincerely love God and love one another for the promotion of united efforts in all of our labor, support, and the sharing of resources.
We should have vividly seen and been informed already, that any marriage, family, home, organization, business, school, church, community, or nation that did not operate on the principle of love, finally became either short-lived, weak, fragmented, dysfunctional, ineffective, unproductive, unsuccessful, direction-less, and chaotic, or was ultimately destroyed and annihilated. We must learn such important lessons of life, and apply the principles of genuine love, care, concern, carefulness, wisdom, and kindness in all of our treatment of people we relate to at different levels of encounter and interactions, in order not to add to the dismal statistics of failed relationships.
WHAT MUST TRUE LOVE LOOK OUT FOR IN A PARTNER, NEIGHBOR, FAMILY MEMBER, OR FRIEND?
After careful analysis, I have concluded that true love must sincerely care (lookout) for 5 vital ingredients in a person's life:
1) The WELFARE of the person.
You need to help the person to discover and use his or her real gifts and talents effectively. Know the goals of the person, understand his or her passion, and carefully examine to find out what will make the person live productively, and move on successfully towards final victory and success in life.
2) The INTERESTS of the person.
We have to know and understand what motivates each of us for maximum participation and productivity, and what makes each person happy.
3) The NEEDS of the person.
We must understand the fundamental DIFFERENCES between males and females, which will dictate the understanding of the different NEEDS in the relationship. We should then mutually discuss all the facts and agree on the best way to work together and meet those needs.
For example, while a husband will have an important need of respect, good meals, cooperation, domestic support, and sexual satisfaction in the marriage, a wife will need love, affection, verbal appreciation, rich conversation, financial care, and a lot of non-sexual touches.
4) The RIGHTS of the person.
I have to receive from you and obtain in the relationship or marriage, some essential things that will make my life complete. A sense of humor or efforts on your part to be a kind (true example) of a father, mother, brother, sister, and best friend to me, are among the "rights" I must obtain from you.
5) The OPINIONS of the person.
You cannot tell me you sincerely love me when you don't respect my ideas, opinions, and inputs. You take decisions alone in the relationship, and then inform me to follow you to do what primarily pleases only you.
SOME NEGATIVE ATTRIBUTES THAT WE FALSELY ATTACH TO LOVE
I need to emphasize that love is NOT:
1) Blind
Love does not see dangerous traps ahead; unable to notice any red flags, and cannot distinguish infatuation or lust from true love.
2) Deaf
Love cannot hear any warning bells, and will not listen to any caution or wise counsel.
3) Insensitive
Love consumes us and numbs our feelings to the extent that it ignores the protective promptings of conscience. A person in love loses any sense of noticing and working properly with personal feelings and has no respect for the feelings of those he or she claims to love.
4) Senseless (stupid)
Love makes aimless decisions and choices without careful consideration of intended and unintended consequences; and launches into activities and investments of time, money, resources etc., without evaluating what the expected results and profits would (or could) be.
5) Purposeless
Love is casual, capricious, or impulsive, with no defined aim, objective, or goal in view.
6) Wayward
Love needs no organization and does not think carefully. Love is sporadic, erratic, directionless, inconsistent, disregards any principles of honesty, and operates without integrity.
Please, let us get it loud and clear --- love does not operate effectively or thrive under any of these 6 (or more) negative attributes or factors!
This why God exhorts us to "exercise abiding love with knowledge and all discernment" (Philippians 1:9).
You need to KNOW EXACTLY WHAT YOU ARE LOVING and WHO YOU ARE LOVING.
QUESTION:
Are we learning our lessons carefully and diligently, in order to avoid carelessly "FALLING IN LOVE", instead of wisely "WALKING INTO LOVE"?
To be able to effectively engage in all that love offers and make each other productive and happy, we need to define and trace the origin of love.
THE SOURCE AND DEFINITION OF LOVE
God Almighty, the source of love and all loving attributes, is ready to equip and assist us to operate in love, IF only we are willing and humble enough to be instructed, guided, and transformed by the Lord in order to be taught and empowered to possess and exercise true love as our basic principle and philosophy of living.
I don't think there is any other word that arouses more of the human emotions, stimulates more sweetness of human desires, springs up more appetite for the sharing of human hearts, and erupts more delight in men and women, than the four letter word ---- love.
Love is on top of the list of the most used and most abused words from the beginning of time and has survived the test of time more than many other words.
"I love you" is a very common expression of likeness, and others summarize their relationship plus all of their thoughts and feelings towards someone who is dear to them by calling the one "my love".
But, what really is love? Love as a verb and as a noun?
GENUINE LOVE
Love is liberating and produces real freedom in relationships rather than bondage. True love CORRECTS, but true love also GIVES FREEDOM.
Love has been defined, re-defined, and expressed in so many ways by many people and in varieties of cultures to the extent that many of us have lost the true meaning of genuine love. We, therefore, have varied opinions on the definition and nature or marks of true love.
I have analyzed and conclude on the flowing definitions of love:
1) Giving and forgiving
Every kind of love and its demonstration or expression involves some form of giving. I need to emphasize that you can give without loving, but you cannot love without giving. Forgiveness will (and must) always accompany any act of love. If you cannot show consistent forgiveness towards someone you relate to, then it is likely that your love for that person is shallow.
2) Godliness
Any godly character is also a loving character. This is because God is love – His Spirit, Presence, and Nature are all constructed and saturated with love. God is, therefore, the Origin of love. This is the basis of the fruit of God's Spirit which is initiated by love as the first fruit. Anyone who does not or cannot love people from his or her heart cannot be classified as a person who possesses the true nature of God.
3) Obeying God's word
Obedience to the word of God is a major definition that Jesus gave to us for love. In an effort to obey God's commandments, a person will be automatically operating in the realm of love, and people will feel the loving results of his or her words, deeds, and attitude.
4) Laying down your life for someone
True love involves some form of sacrifice of one's life in one way or another for a neighbour. Deliberate and continual practice of sincere love will ultimately develop into sacrificial love in the life of the person. Laying down of your life or demonstration of sacrificial love is fueled by God's Spirit, God's word, and emotional love that is stirred in your mind, heart, and spirit by God who is the author of love.
By Rev. Dr. Samuel Kisseadoo.
Founder and President, Fruitful Ministries International Incorporated (An Evangelistic and Teaching Christian Organization)
Website: www.fruitfulministriesint.com. Email: kisseadoo@msn.com
For free counseling and prayer, meetings, copies of Dr. Kisseadoo's books, messages on CD etc.
US Tel. 1-757-7289330 US Cell & WhatsApp: 1-917-7410643.
In Ghana call or WhatsApp 233-208126533 in Accra, or 233-275353802 in Kumasi.
Facebook (all walls are public): 1) Dr. Samuel Kisseadoo. 2) Rev. Dr. Kisseadoo. 3) Dr. Samuel V. Kisseadoo (this is a Community Page you can "like". You can access the other two and read posts, but are full of new friends).
Tune in to JOY 99.7 FM in Accra, Ghana to listen to Dr. Kisseadoo's weekly broadcast "Hope For Your Family" on Sat. 5:30am-6am, Ghana time (12:30am-1:00am, US Eastern Time in November - March). You can access the broadcast on the Internet using MYJOYONLINE.COM.
In Ghana, call Tigo or Airtel 545 and follow the prompts for daily inspirational messages of Dr. Kisseadoo. Permission granted to freely share but with acknowledgement.