In 2016 the world witnessed a political typhoon that toppled governments, making some presidents one-term leaders. But 2017 was the year of jaw-dropping scandals and revelations.
And as Ghanaians join the world to usher in the New Year, Myjoyonline.com looks back at the scandals that shaped 2017 in Ghana.
January:
'Plagiarized Inaugural Speech'
For president Nana Addo Dankwa Akufo-Addo and the New Patriotic Party (NPP) the year 2017 did not start as they had anticipated. The NPP defeated the then governing National Democratic Congress (NDC) in the 2016 general elections, making John Mahama a one-term president. The president's inaugural speech was hailed as the best any incoming leader has delivered since 1992. "I ask you to be citizens: citizens, not spectators; citizens, not subjects; responsible citizens building your communities and our nation," Mr Akufo-Addo rallied the spirit of Ghanaians. Some communications experts were quick to compare his oratory skills to that of Ghana's first president Kwame Nkrumah. But the joyous balloon deflated hours later when it was revealed that parts of the president's speech were plagiarized. It turned out that his speech writer lifted some lines from speeches delivered by former US presidents George W. Bush and Bill Clinton verbatim but failed to acknowledge the sources. Director of Communications at the Office of the President, Eugene Arhin came out to apologise for the gaffe after it was widely discussed in the international media.
'Hand go, hand come bribery claim against Boakye Agyarko'
As though on cue, the corridors of Ghana's legislature shook after Bawku Central Member of Parliament (MP) Mahama Ayariga alleged minority members of the House were each handed GHS3,000 to seal the approval of Boakye Agyarko as Energy Minister. The NDC MPs were against the nomination of Mr Agyarko because of some unsubstantiated claims he made against their government. The money was reported given to Minority Chief Whip Muntaka Mubarak by First Deputy Speaker Joseph Osei Owusu. But the two senior members of the House denied it, with Mr Mubarak swearing by the "Holy Quran." Following pressure from the public, Speaker of Parliament Professor Aaron Mike Ocquaye set up a five-member Investigative Committee chaired by Railway Minister Joe Ghartey to establish the veracity of the claims. But despite Mr Ayariga's insistence that his claim was credible, the Committee found it to be spurious. "There was no evidence that money was given to MPs [with the intention of bribing them]," Mr Ghartey said, clearing Messers Osei Owusu and Mubarak of any wrongdoing. Mr Ayariga was compelled to apologise over his action, which amounted to a contempt of Parliament.
February:
'PURC questionable transactions'
The Public Utilities Regulatory Commission (PURC) enjoyed media attention after its key management members were flagged for some questionable transactions. An amount of GHS435,087 belong to the Commission, found its way into the then PURC boss Samuel Sarpong's personal account. The money was part of GHS1,225,000 paid to the PURC by five major utility companies for the 2013 tariff review hearings held nationwide. It was to be deposited into the account of the Commission, but documents intercepted by Joy News indicated it was not done. Former Head of Finance at PURC, Isaac Assan said Mr Sarpong asked him to put the money into his account, a claim that was disputed. The Economic and Organised Crime Office (EOCO) instituted a probe into the matter following the claims and counter-claims. At the end, Mr Sarpong was sacked by president Akufo-Addo.
March:
'Delta Force raided Kumasi Circuit court'
Pro-NPP vigilante group, Delta Force raided a Kumasi Circuit court and freed 13 suspects standing trial for the assault of Ashanti Regional Security Coordinator, George Agyei in March. The group claimed Mr Agyei did not deserve the position because he played no role in the success of the NPP. At least 13 men were arrested in connection with the attack but they were released following a court by their colleagues.
April:
'Four MPs were blacklisted from entering the U.K'
Parliament forcefully made its way into the media in April after three sitting Members of Parliament (MP) and a former MP were banned from entering the UK over alleged visa fraud. The then UK High Commissioner Jon Benjamin in a letter written to Speaker of Parliament Professor Aaron Mike Ocquaye accused the MPs of using their influences to facilitating the entry of their relatives to his country. The MPs used their Diplomatic Passports to provide cover for their relatives, the diplomat said. The MPs cited included Bia East MP, Richard Acheampong, Asutifi North MP, Joseph Benhazin Dahah, Ahafo Ano South West MP, Johnson Kwaku Adu and Asunafo South MP, George Boakye. "The British High Commission considers the actions completely unacceptable. In some cases these behaviours may arguably be criminal in nature," the British High Commission said.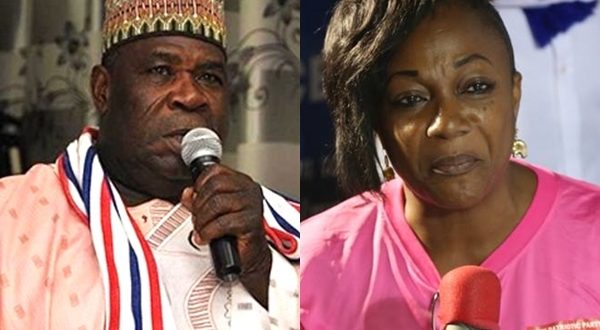 May:
'Otiko Djaba and Daniel Bugri Naabu trade of words over bribery claims'
An angry display by NPP's Northern Regional Chairman Daniel Bugri Naabu at a meeting held by Gender Minister Otiko Afisa Djaba triggered claims that he has been receiving bribes from residents, with the promise of positioning them in the government. It was also claimed that he was behind the death of the then Upper East Regional NPP Chairman, Adams Mahama who died after an acid attack in 2015. But the flame of the war of words was doused by an apology rendered by the Gender Minister.
June:
'BOST sale of contaminated oil got Akufo-Addo government busy'
The Bulk Oil Storage and Transportation Company Limited (BOST) came under attack after it was revealed it had sold contaminated oil to Movenpiina, an unlicensed oil marketing company. Evidence suggested between March 5, 2015, and November 30, 2016, BOST sold millions of litres of contaminated fuel to 36 entities and individuals who did not have any official license from the National Petroleum Authority (NPA). The local staff union of BOST was also allocated not less than 100,000 litres of the off-spec product at Ȼ1 per litre. Those transactions took place under the supervision of immediate-past Managing Director, Kwame Awuah Darko. The intervention of the Energy Ministry and NPA saw the withdrawal of the oil from the market.
July:
'Dome Kwabenya MP Adwoa Safo trolled for claiming credit for Mahama project'
Dome Kwabenya MP, Sarah Adwoa Safo was relentless trolled on social media after she claimed for a school built in her constituency by the John Mahama government. The Deputy Majority Leader in a video that went viral on social media claimed that she lobbied the World Bank to fund the construction of a community day senior high school sited in her constituency. The school block in question is one of the community day schools the past administration promised and built. The President and his National Democratic Congress party promised in their election 2012 campaign to build 200 community day schools. Some of the day schools were funded by the World Bank including the one sited at Kwabenya in the Ga East Municipality of the Greater Accra. But strangely Adwoa Safo claimed personal glory in the project, leading to attacks from Former Deputy Education Minister, Samuel Okudzeto Ablakwa and some Ghanaians.
Two Deputy Chiefs of Staff'
August:
'A-Plus attempt to smear allegations on the two Deputy Chiefs of Staff'
Controversial pro-NPP musician, Kwame A-Plus accused the two Deputy Chiefs of Staff of fraud and corruption in the discharge of their duties at the Flagstaff House.
Francis Asenso-Boakye and Abu Jinapor denied the claims, but they were vindicated after an investigation by Police Criminal Investigations Department (CID) revealed the musician's claim was not grounded in facts. The case was dismissed.
'Deputy Agriculture Minister William Quaitoo forced to resign after he called northerners liars'
Deputy Agriculture Minister William Quaitoo resigned after he was accused of making ethnic comments against people from the north.
A four-year-old girl who was allegedly defiled by a member of her community at Assin Adadiemtem in the Central region. The story sparked national outrage. Even as police have arrested a young man in connection with the crime, stories of such sexual assaults continue to abound in the community. In a separate development, a Wa circuit court began hearing a case of a headmaster who defiled a 10-year-old girl on three occasions.
Ghana's High Commissioner to South Africa, George Ayisi Boateng c​
October:
'Ghana's High Commissioner to South Africa George Ayisi Boateng says he will prioritise needs of NPP members first'
Party over country? Ghana's High Commissioner to South Africa, George Ayisi Boateng came under intense backlash for comments suggesting NPP supporters are more Ghanaian. He made the comments at a meeting of the Tertiary Education Students' Conference (TESCON) at Kumasi Technical University.
President Nana Addo Dankwa Akufo-Addo
November:
'Akufo-Addo tells Qatar-based Aljazeera homosexuality could be legalised in Ghana'
The President told Aljazeera's Jane Dutton that the act remains illegal but pressure calling for change could provoke action. Government rules out any possibility of legalizing homosexuality insisting it is unacceptable following criticisms President Akufo-Addo appears open to amending Ghana's laws to make the act legal.
Carlos Ahenkorah
December:
'Trades Minister accused of extorting money from expatriates in cash-for-seat scandal'
Deputy Trades Minister Carlos Ahenkorah was accused of unparliamentary conduct in verbally assaulting MP for North Tongu, Samuel Okudzeto Ablakwa after it emerged that the trade ministry backed a private event organiser to collect up to 100,000 dollars from expat businesses to grant them access to the President at an awards ceremony. The scandal compelled the president to demand a written explanation from the Trade Minister.
Special Development Initiatives Minister, Hawa Koomson came under pressure for preparing a "shambolic" budget in which GHS2million was earmarked for "budget preparation". Earlier The Minister justified the planned expenditure. But the cost of the three websites proved even more scandalous on social media. The Minister has since said the cost of the websites is rather ¢80,000 and not ¢800,000.