Dealers in used vehicular parts imported into the country have denied increasing their prices.
The used auto parts dealers of Abossey-Okai say their prices have remained unchanged over the past year.
The Ghana Private Road Transport Union (GPRTU) has hinted it may be increasing transportation fares due to increase in the prices of imported auto parts. They have also cited the rising fuel prices as one of the reasons for their impending hikes in transport fares.
National Vice Chair of the transport union, Robert Sarbah, in an interview last week indicated: "The spare parts have gone up and it is not the fuel alone that we use in calculating our fares."
Robert Sarbah
"Looking at the current situation, the spare parts have gone up and it demands for an increase in lorry fares. Almost every part that we use [the price] has gone up.
"We have fought hard not to increase the fares. The tyres that we use, the rings that we buy in overhauling our vehicles, the bearings; almost everything has gone up. With this, we have no choice but to increase fares to mitigate the impact," Mr. Sarbah added.
However, Public Relations Officer, Eric Crentsil, has told Myjoyonline.com in an interview that the GPRTU's claim is untrue.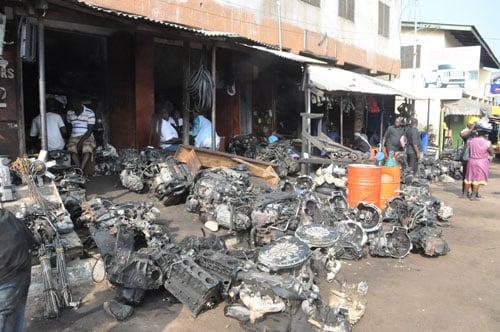 The statement maintained that about 85% of prices remain unchanged.
"We have not increased our prices…We urge the GPRTU not to shift the blame on us for their proposed increment of transport fares," Mr. Crentsil added.
To back his argument, Mr. Crentsil produced a list of used spare parts for some commercial vehicles which has been published below:
| | |
| --- | --- |
| Items | Prices (GHS) |
| RHINO BACK SPRING | 700.00 |
| RHINO FRONT SPRING | 350.00 |
| CANTER BACK SPRING | 350.00 |
| CANTER FRONT SPRING | 250.00 |
| KIA BACK SPRING | 380.00 |
| DAEWOO MATIZ HALF BLOCK | 300.00 - 350.00 |
| COMPLETE ENGINE MATIZ | 1,000.00 -1,200.00 |
| KIA PRIDE HALF BLOCK | 350.00 -400.00 |
| COMPLETE ENGINE PRIDE | 1,200.00 – 1,500.00 |
| H100 HALF BLOCK | 1,500.00 – 1,600.00 |
| H100 1500 COMPLETE ENGINE | 3,200.00 – 4,500.00 |
| H100 RINGS | 300.00 |
| HEAD GASKET (Brand New) | 30.00 |
| OIL FILTER (Brand New) | 20.00-30.00 |
| MIGHTY RINGS | 500.00 |
| OPEL ENGINE COMPLETE | 1,200.00-1,600.00 |
| OPEL HALF BLOCK | 500.00 |
| OIL FILTER 7 (Brand New) | 7.00-30.00 |
| PLUGS (Brand New) | 80.00 – 200.00 (Set) |